7 Days of Watercolor Painting
The class is an on-demand class. Learn fast or slow. Finish in 7 days or seven weeks. The main thing is to have FUN. Once you sign up, you can take the class anytime. There are over 4 hours of instruction and fun. 
All of the classes will be available for 2 months after purchase and ALL classes will be removed  by May, 16 2022.
Have you thought?
"I can't paint or draw." — I've got news for you. – OH, YES, You can learn to paint and draw!
Have you thought?
"How in the world do you get started?" — I can help you get started today.
Have you thought?
Or, "I don't have any talent!" —
And – YES— You do have talent. Anyone can learn to paint and draw if you have the desire to do so.
Day 1 - Sketchbook Practice & Play 
Grab your supplies. It would be best if you had watercolor paper, paint, and a few brushes for the first day.
I don't know if you are like me. When I get new art supplies, I just want to jump right in. So that is what we are going to do on the first day, paint our first abstract painting. Practice and play in a multi-media sketchbook. I paint almost every day, do you?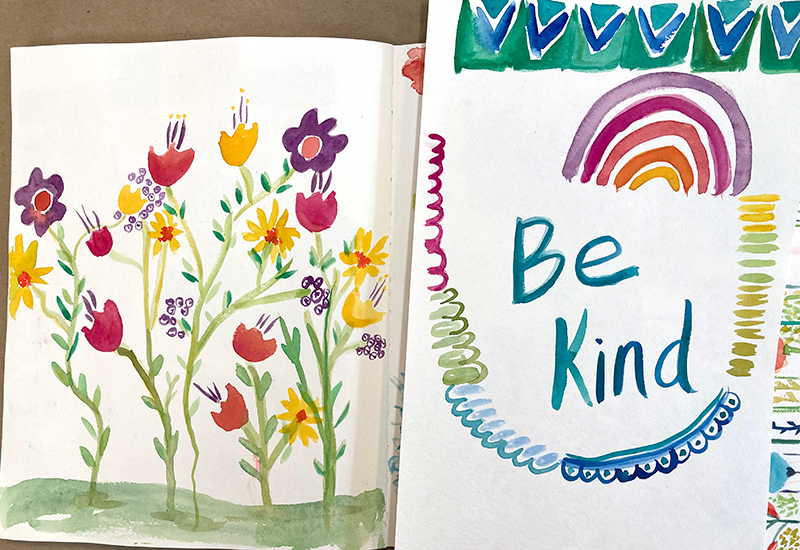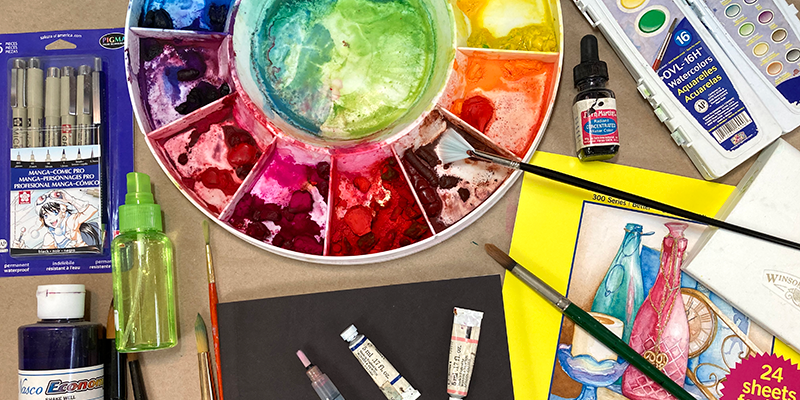 Day 2 - All About Supplies
You may know more than I do about art supplies, so this is more information if you wish to learn more. I will do a video all about supplies from very inexpensive paints to the pro tools.
Day 3 - All About Brushes
Have you ever seen a brush at the store and said, "Hum 🤔, I wonder if that is a good brush for painting in watercolor?" The brushes video is where I will demonstrate different sizes and brands. Then we will paint together and create an abstract painting.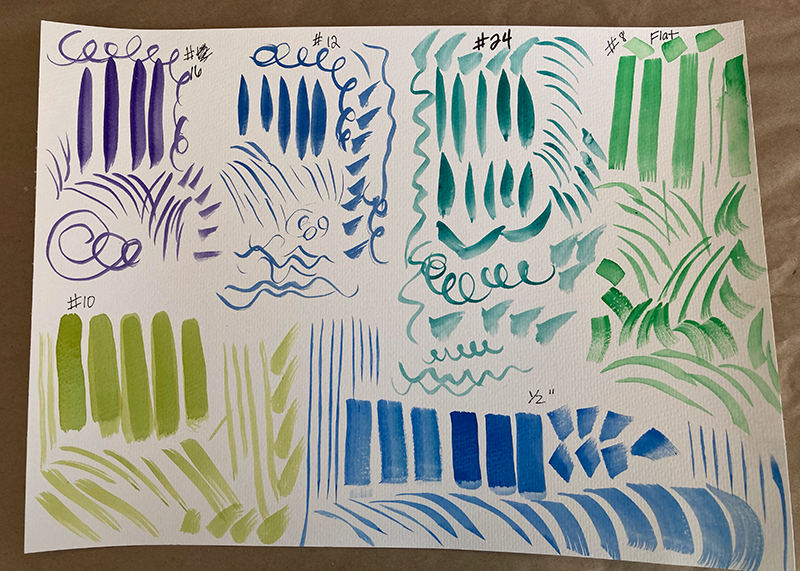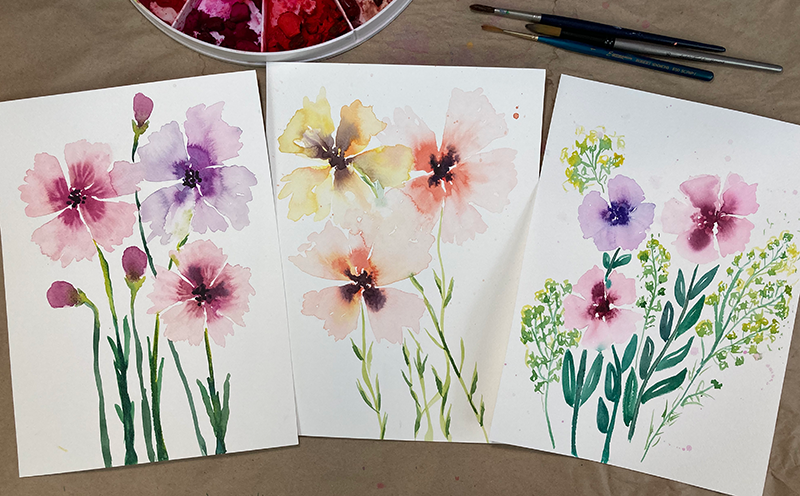 Day 4 - Easiest Watercolor Flower Painting Ever
Do you want to learn to paint some very easy but delicate watercolor flowers? Day 4 is the day for you. We will learn how to paint baby's breath and along with flowers that look like petunias.
OK, maybe these flowers are the easiest flower paintings in the world. We will create drip flowers on day 5. They are abstract looking and do not represent any type of flower. SUPER FUN TO PAINT. Playing with water and brushes is the name of the game.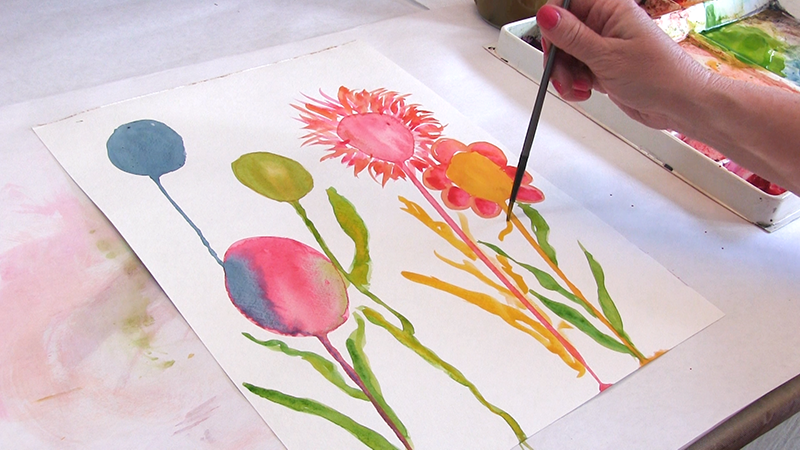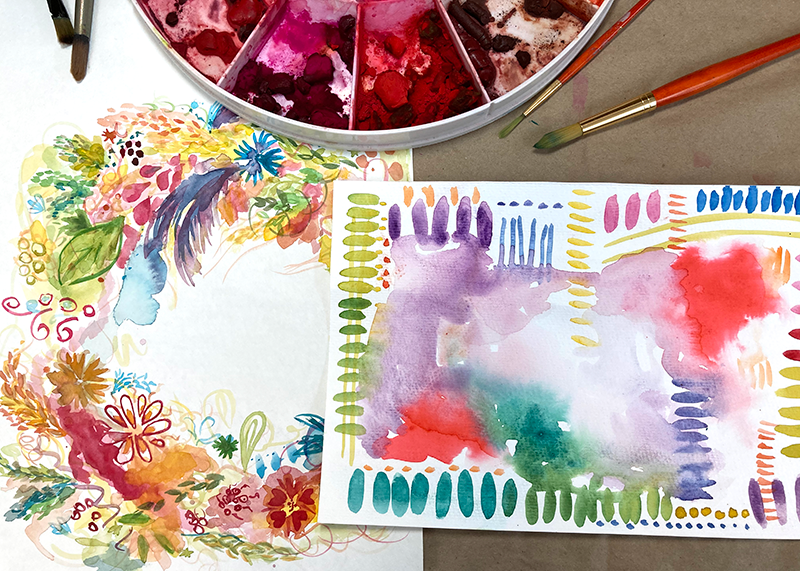 Day 6 - Abstract Watercolor
Express yourself with marks, swirls, and blobs. Freedom from the structure and photographic representation. We will create shapes, play with color and gestural marks that make you happy. Come play in the water with me.
Day 7 - Wet-on-wet Loose Wildflowers
We will paint wildflowers wet-on-wet and wet-on-dry techniques. The technique we will explore will create depth of field in your painting. Do you belong among the wildflowers?
I love to go for long walks. This painting reminds me of the long walks I took when my dad and I were in Colorado one summer. We got there early in summer, and the wildflowers were everywhere.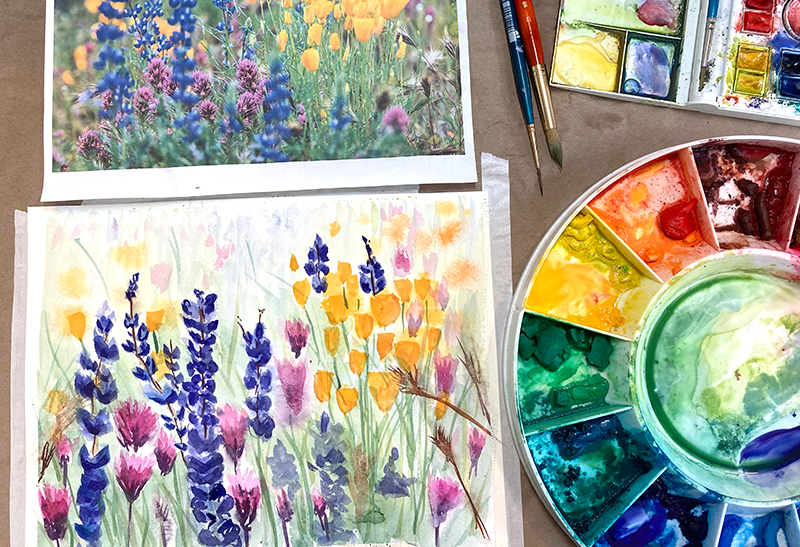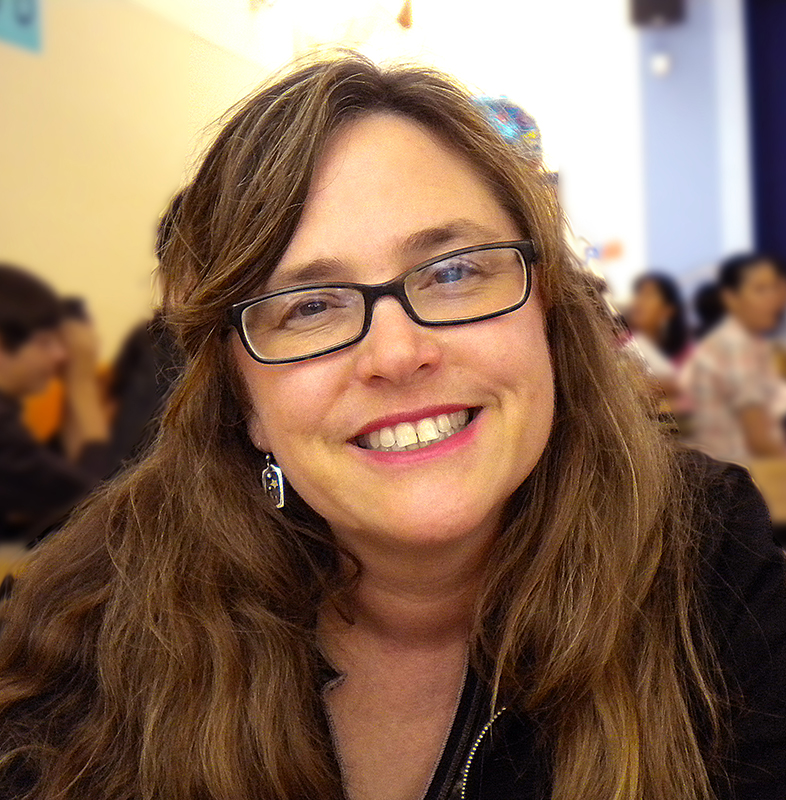 I am a native Texan born and raised in Dallas, now living in southern California.
I first started  painting in watercolors on a hillside overlooking Lake Geneva while attending the American College of Switzerland.
Along the way, I taught a variety of art classes for ages 4 to 85. My first teaching experience was right out of college, teaching summer art camps at a Montessori school in Texas. Now I teach watercolor, acrylic, oil pastel, and oil painting. What do you want to learn? Let me know.
I hope you will sign up to play in the water with me.
– Karen Elaine